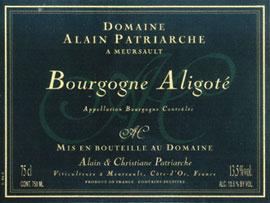 Region

Town

Winemaker

Type

Grape
Background

Aligote is a grape type. This is the "other white grape" in Burgundy. It makes a simple, clean, and delicious wine. Do drink it young. Anybody who likes Pinot Grigio or Sauvignon Blanc will probably enjoy the Aligote even more. A great aperatif wine and another top value from Alain.

Tasting Notes

Like a Pinot Grigio with great body. Some minerality, with fresh, lemony fruit and light elements of apple skin and hay.

Food Pairings

Shellfish, seafood, salads, aperatif -- much the same as you'd serve with Sauvignon Blanc.
Classification

Regional

Grape Makeup

Aligote

Color

White

Age of Vines

80

Case Made

250

Cellar Potential

2 - 4

years