How can Americans Experience the "Real Burgundy"?
Experience the TRUE Burgundy – the way Burgundians do.
The real Burgundy is more than the famous vineyards. And it is more than the thousand years of tradition. It is more than French wine and food. The real Burgundy is the people living these traditions and tending those vineyards.
But how can Americans get to meet these people and experience their lifestyle? Simply put, most will never get that opportunity.
But YOU can. You can go to Burgundy like an insider.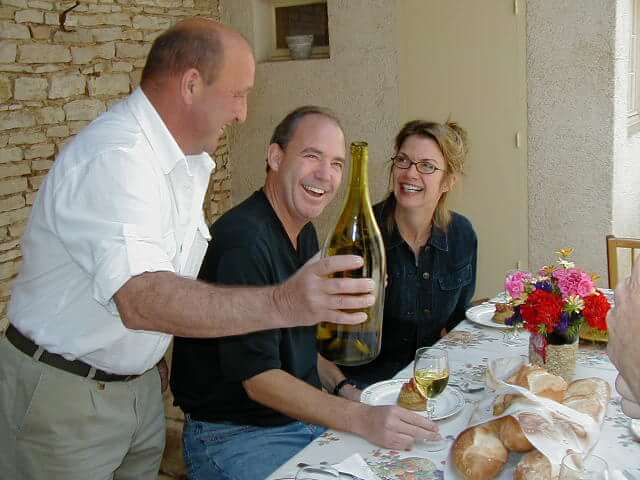 Why are these Tours Unique and Special?
You are welcomed as a long-lost family member, not an American tourist.
Taste wines that are usually not available for purchase directly out of the winemakers' cellars.
Meet the winemakers and their families in the comfort of their homes.
Have a French chef make a dinner for you in the winemakers' homes.
Drink wines perfectly paired with the food by the winemaker and a sommelier.
Enjoy a memorable time that few can experience and you could never duplicate.
Visit the winemakers' private cellars that are never open to the public.
Taste wine in the vineyards where the grapes were grown with the winemaker.
Have the winemakers' family prepare a traditional Burgundian meal in their own kitchen.
Begin to grasp the notion of "terroir".
Stay in the same high quality hotel the entire time in Burgundy.
Make a real and authentic connection with the winemakers, their land, and their culture.
Tour exclusive vineyards and hallowed sites.
Imagine being invited into a famous winemaker's home for dinner. And tasting wines dating back to the 90's and 80's and 70's from their private cellars.
Imagine going to small markets and picking the freshest and most appealing food in the morning. And then going to a winemaker's home and having a French chef teach you how to prepare your hand-selected meal. And having a winemaker and sommelier perfectly pair wines to the food.
Imagine going into exclusive vineyards and private cellars that most Americans can only dream about experiencing.
Steve has crafted a unique visit to Burgundy, which totally reveals why he is so passionate about the region. The trip is unlike any other. There are culinary trips and there are wine trips. But no other trip combines the intimacy and access of Steve's friendships with the creativity and genius of a master chef.
Trip participants say this week in Burgundy is a once-in-a-lifetime experience that cannot be duplicated at any price. We tend to think they are right.
You're invited to spend a week among the true artisans of Burgundy with Steve. It's guaranteed to be an eye-opening experience that will change food and wine for you forever. It's a personal adventure, limited to 6 people per trip, and is customized for you. Most exclusive.
Basic Information
The trip is strictly limited to 6 people only. It is about a week long – usually 7 days and 6 nights. We pick you up in Paris, either at the airport or at a hotel. We provide all transfers, including the trip back to Paris. Some people add on their own trip extensions either before or after our trip.
In Burgundy, we usually stay at Hotel Le Cep. It's the best. Everybody loves it. Please feel free to check out their website. People appreciate that they can unpack and stay in the same quality room for the entire week. Very convenient. And a nice buffet breakfast is included each morning, if you are hungry.
We visit some of the "must-see" locations in Burgundy. Included are such sites as the Chateau Clos de Vougeot, where the French wine industry knighted me. Very nice! Also, we always visit the Hospices de Beaune. We take care of all this for you.
Of course, you could do those nuts and bolts more or less on your own. But the key to this trip is the ACCESS to the winemakers and their families as well as their homes and cellars. At least once a day, we go to one of their homes. They welcome us in, like family. They cook for us. Or the talented chef cooks for us. They give us their personal wines out of their cellars. This is "unheard of" treatment. Very intimate and relaxed. Very special. Sometimes, we go to restaurants with the winemakers, too.
The trip includes just about everything, except airfare. It is priced very reasonably, but obviously needs to cover our costs. Each year, the trip cost changes depending on the exchange rate. For example, in 2009, the participants paid less than in 2008 — solely because the exchange rate was much better. People find that the trip is actually worth much more than what we charge and is very fair.
Bottom line is this is a trip for people who like great food … who want to eat it paired with world-class wines direct from the winemaker cellars … and who truly want to connect with the Burgundians on a personal level. If you all are into food-wine-people, then this is a once-in-a-lifetime trip. That's the part of the trip you could never do on your own. And while the nuts and bolts of the trip are excellent, getting to know the winemakers on a personal level and spending significant time with them is what excites most of the participants.
If you have a "ready-made" group of 6 people, that opens all kinds of possibilities. We can customize what to do. For example, we could visit a barrel maker. Plus, we can concentrate on certain types of wines. You'll get a trip tailored to your desires.